With mortgage interest rates fast approaching 7%, the shift in the real estate market is in full swing. It is hard to fathom, but a mere 6 months ago, we were discussing how unbelievably hot the market was. Now we are looking at buyers and sellers and having to explain how drastically different the real estate market is right now. Changes in market behavior and perceptions are a regular cyclical part of a healthy marketplace. What has made this cycle so different is how rapid the change has been.
For context, see the graph from the St. Louis FED that tracks economic data. This graph shows home values from 2000 to today. Prices are roughly 162% higher than in January 2000. 40% of that gain has happened in the past 2 years. That is a tremendously rapid growth these past 2+ years in a historical context. 

Will we see prices correct themselves? There is a good chance, as what goes up must come down. However, most market participants are still unsure of the direction of prices.
What is sure right now is that market activity has dropped off significantly and is headed to a balanced market.
Here are a few key highlights of the market in September.
Closed sales are down 40.3% YoY

Days on the market are up 100% YoY

Homes sold over the list price are down 54.1% YoY

Active inventory is up 95.1% YoY

The month's supply of inventory is up a whopping 226.8% YoY to a 3.9 months supply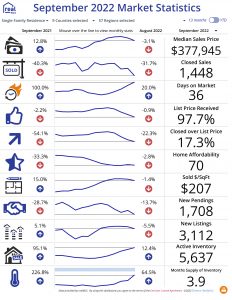 All of this market slowdown is happening while housing affordability continues to drop—down 33.3% YoY. The rise in rates combined with historic price gains has made it difficult for many people to afford a home. First-time home buyers are being squeezed even more by this lack of affordability. There are few homes for sale in the price range for starter homes. And the ones that can afford it are now paying a higher mortgage rate. 
While statistics are great and can tell you a lot about the market. Some first-hand experiences can sometimes inform more about the pace of the market. Here are some of my observations I have seen in the past few months:
You don't have to rush an offer in. If you are a buyer and view a home don't feel pressured to have to submit an offer that very minute. Many times now you have the ability to go back and review comparable sales, ask the seller some pertinent questions and maybe even sleep on the decision to make an offer.

You can negotiate. We are not in a declining market yet, so I don't think lowballing sellers is a good strategy. But, gone are the days of paying tens of thousands of dollars over the asking price just to win the bidding war.

Find creative ways to get a deal done. If you are selling a home, instead of offering seller-paid closing costs, why not offer to buy down the buyer's interest rate? This can make their payments more affordable and get them in the home.

Show value in your home. With housing affordability a concern, the price always will dictate a buyer's purchasing decision. But, you can also show value by showcasing how your home will be valuable to a buyer. For example, if a portion of your home can be made into an office be sure to highlight that. Buyers who work from home will find great value in this feature and will be willing to place a premium on a home with this asset.

The amount of showings is decreasing. Homes sitting on the market for 30 days are the norm now. Don't be surprised to see a listing sit for a couple of months as this will become more typical. 

Many buyers are stepping back from the market. Many just can't afford the higher rates right now and are concerned about inflation.

Many sellers don't want to list. Many sellers want to keep the low mortgage rate they bought into or refinanced. 
Lastly, median sales prices are up 12.8% YoY. Though, they are down 3.1% in the past month. While this is not odd for the fall season, it is something to keep an eye on. We will wait to see if this is a trend or not.
One thing is always constant in life, change. This time in the real estate market is like every other. A time of change and transition. Speak with a trusted real estate professional to get the best advice possible in an ever-changing market!